After a previous dismissal of the arts, came in Tony Blair. A British politician who served as Prime Minister from 1997 to 2007(Boulton, 2013, p.1). Tony introduced the Labour Party to 'New Labour' ideology and his theory of the finding a 'Third Way' between Thatcherism and traditional Labour values is something that he is most famous for today. I will be exploring how Blair managed to revive the film industry and how directors particularly Richard Curtis paid homage to his efforts in their film making.

Before we can fully understand how New Labour affected British Film making, we need to explore ways in which Blair's ideology enhanced the Arts. As the British Film Industry has always and continues to be partly inferior to Hollywood, New Labour leadership thought the best thing was to try to appeal to American audiences and assimilate with their films(Film Policy Review Group, 1998). This was achieved by reducing the amount of public funded films, and avoid the previous laissez-faire approach Britain previously endured with Thatcher and the Conservatives.This triggered large change for the film industry as it introduced a Film Council, BFI Production Board and most famously a "National Lottery Fund". (Film Policy Review Group, 1998, p.19) This allowed films to apply for funding from the Government through a lottery system and introduced film studios such as Pathe Pictures and DNA Films. This particular fund allowed the studios to continue thriving throughout the British Film Industry (McFarlane, 2016, pp. 445).
One British filmmaker who was indeed affected by the ideologies and presence of New Labour was Richard Curtis, an auteurist director famously known for his take on the Romantic Comedy genre and involvement with films: Notting Hill (1999), Four Weddings and a Funeral (1994) and particularly Love Actually (2003).
The most significant way is through his idolisation of the Prime Minister, who is said to symbolise Tony Blair throughout his parliamentary reign. The portrayal of PM and scenes of touristic London landmarks such as Nelson's Column and having Hugh Grant's character finally take control, reflects the foreign policy of the reign as it was Blair's mission to assimilate with America and be one with them as much as possible.
This is shown with his close relationships with Presidents (Naughtie, 2016) and his adaptation to Presidentialism by using a 'Sofa Government'(Beattie, 2004). Another example is shown in the clip below where (Hugh Grant) the Prime Minister is performing a speech. The mannerisms are often compared to Blair's.(Leggott, 2012).
Another way in which Curtis took aspects of New Labour is through iconography. New Labour wanting British film industries to be as big as the Hollywoods and appeal to a wider audience inspired Richard(Leggott,2012). This allowed him to hire cast members that had featured in Hollywood films and be easily recognised. For example, Billy Bob Thornton who plays the infamous American President and Laura Linney who plays the much-loved character Sarah((O'connor, 2016).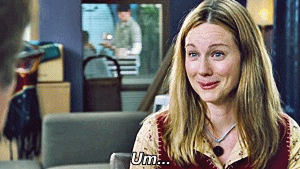 The use of popular culture throughout the film can also suggest this, for example, the use of music by American artist Kelly Clarkson shortly after her popular American Idol win. This gave the film that wow-factor that Americans can watch and feel excited about, allowing Curtis's iconography to leave a big impact, making Love Actually's soundtrack one of the most favoured Christmas soundtracks from a British film worldwide(Maple, 2013).
Bibliography:
Beattie, J (2004). Blair's Sofa Cabinet – The verdict. Retrieved from: https://www.standard.co.uk/news/blairs-sofa-cabinet-the-verdict-6983054.html
Boulton, A., (2013), Tony's Ten Years: Memories of the Blair Administration, New York: Simon & Schuster
Curtis, R., (Director), (2003), Love Actually, [Motion Picture], United Kingdom: DNA Films
Film Policy Review Group. (1998). A Bigger Picture. The Report of the Film Policy Group. London: Department for Culture, Media and Sport
Leggott, J., (2012), Travels In Curtisland: Richard Curtis and British comedy cinema, In I. Q. Hunter & L. Porter (Eds.),British Comedy Cinema.
Maple, T (2018). Why 'Love Actually' is one of the most underrated Christmas Albums around. Retrieved from: https://www.bustle.com/p/why-the-love-actually-soundtrack-is-one-of-the-most-underrated-christmas-albums-around-13087799
McFarlane, B., (2016), The Encyclopedia of British Film: Fourth Edition, Oxford: Oxford University Press
Michel, R (Director), (1999), Notting Hill, [Motion Picture], United States – London: Polygram Filmed Entertainment.
Naughtie, J(2016). How Blair came to be so unpopular. Retrieved from: https://www.bbc.co.uk/news/uk-politics-36746453
Newell, M. (Director). Four Weddings and a Funeral (1994). [Motion Picture][DVD] London: PolyGram Filmed Entertainment.
O'Connor, A. (2016) 24 characters from Love Actually, ranked from worst to best. Retrieved from: https://www.dailyedge.ie/ranking-characters-love-actually-3130753-Dec2016/